Unlimited Resources Corporation (URC) currently has for sale a used completely refurbished (IDM) Raptor Model R-162 Shredder powered directly by a two 150 H.P. electric motors. This is without a doubt one of the highest production machines manufactured in the United States today. This shredder has the extra torque to shred those tuff "super single" truck tires where many of the other machines stall out. And in combination with this high production factor they are also the most user friendly machines to operate and work on in the industry. These machines are quickly becoming the "work horses" of the Tire Recycling Industry. These are the heaviest duty manufactured machines in the USA.
This machine offers you the "Lift and Swap" design rotor shaft assemblies that allow for very quick knife changes. The shaft size or diameter on this machine is an 11" which is one of the largest in the industry. The Raptor shredder also offers a much improved stack locking system for keeping your knives tight on your cutter shafts. The Raptor shredder also offers a much better seal protection than most of the other manufactures with both splash plates and seal guards to protect the seals. The Raptor shredder has bearings that are housed in field replaceable housing with seals on both sides using grease instead of oil.
This shredder was being rented out and the knives on the machine were totaled when we got the machine back in off this job. So we used a mixed set of knives to build this new cutter stack that we have in the machine now. We used (4) 1.5" thick 16 hook knives and (6) 1.9" thick 16 hook knives along with (9) 1.7" thick 16 hook knives. All of these knives are hard-faced not only on the edges but all the way down the sides, and this will allow all the knives to last for an extended period of time. In conjunction with these knives, we have installed (6) 1.9" thick 5 hook knives in the machine that have longer hooks to better pull the tires into the shredder. These (6) 5 hook knives are equally spaced 3 on a shaft throughout the shredder box. Raptor currently has several customers using this stack arrangement and they are getting excellent service out of this knife configuration.
IDM offers the Raptor in three different configurations, primary shredder (shreds whole off-road, semi-truck, or passenger tires) which is what this machine is currently set up to be, chipper (takes any pre-shredded tire material down to 2" chips), and tire grinder (takes 2" tire chips down to ¾" and liberates the majority of the wire out of the rubber). Each of these will use the same basic cutter box, shaft assemblies, bearings, and drive components. And because each of these machines use the same cutter box they can easily be changed from one application to another by simply doing a rotor change which is made easy with their "Lift and Swap" design.
This Shredder is being sold with a custom built in-feed hopper, a custom built shredder stand with catwalks, and complete electric control panel. We can set this shredder up with a refurbished Action screen classifier, and we could custom build whatever conveyors that you might need to complete the whole system. System price would be $475,000. If you don't need a tire chip and only need a primary shred, then we could sell this Raptor shredder with only an infeed and outfeed conveyor for only $365,000. You can expect 12-14 tons per hour of car and truck tires at a primary shred and more than likely 7-9 tons per hour of 2" TDF if you purchased the whole system.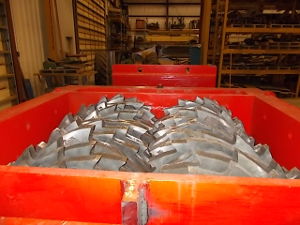 Call URC at (660-295-4204) and speak to Elaine or Richard about this Raptor shredder. We also currently do have two more Raptor shredders that we will soon start rebuilding. One of these machines is identical to the R-162 that we currently have for sale and the other one is a larger 72" cutting chamber hydraulic driven shredder. Remember that when it comes to Recycling Equipment your first and only call should be to one of our "Can do Crew" at URC.